Roof lanterns offer a traditional focal point to any garden room, orangery, or extension. We hand build our wooden roof lanterns from hardwood, and can supply it in a range of finishes. The external elements of the Lanterns are capped in a powder coated aluminum extrusion and can be supplied with an option of ball finials. As an alternative we can offer a more traditional lead ridge capping.
"Hi James, Just wanted to let you know our timber roof lantern was installed today and it looks amazing! The wood is beautiful and the craftsmanship outstanding. It is the focal point of our kitchen and has transformed it into a bright open space. I'm standing underneath it looking up at a bright blue sky… perfection! Many thanks."   Natasha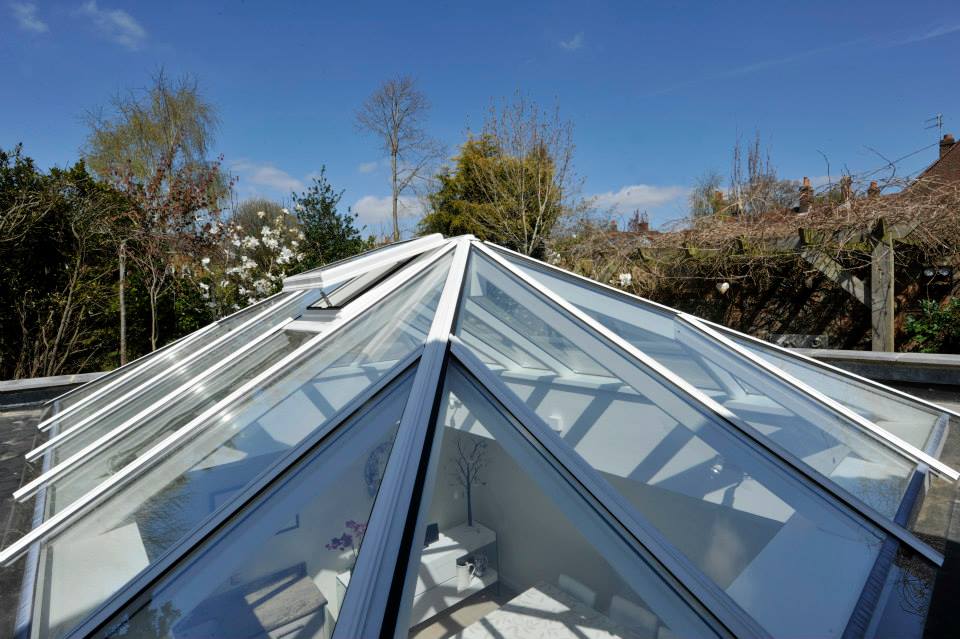 Glass
Double Glazed Units
All our timber roof lanterns are supplied with double glazed units made up using an inside pane of 4mm toughened glass with a coating of Planitherm, with a 16mm argon fitted cavity, then and outer layer of 4mm toughened glass. This unit will give a U value of 1.4 and will give you added security and is guaranteed for 10 years.
Planitherm
This coating is specially manufactured by Saint-Gobain Glass for the UK market. It is designed to keep interiors more comfortable in the winter months and improve your home's energy efficiency. For more information on our wooden roof lanterns and this coating you can visit the Saint-Gobain website at https://www.planitherm.com
Solar Control and Self Cleaning Glass
We can supply double glazed units with the outer pane made from Pilkington Active Neutral which has a slight but neutral tint. This is also available with a blue, grey or bronze tint to further reduce solar glare if required.
Acoustic Glass
If noise is an issue then we can supply units with the outer layer made from 6.4mm laminated glass, this cuts down noise transmission due to the two layers of glass being made of dissimilar materials which has the effect of breaking up the sound waves. We can offer 'Acoustic Glass' if required.
Triple Glazed Units
We can supply triple glazed units if required. Please contact us for more details.
Ventilation
Our wooden roof lanterns can incorporate powered or manually operated openers. This comes in the form of an aluminum unit, custom made to fit on top of the timber frame, in line with the double glazed units. It can be supplied in a colour to match the capping in required.
Sidelights
Our timber roof lanterns can be supplied with sidelight windows either with or without opening casements. They are made from hardwood with decorative corner posts and paint to match the lantern. Contact us for more details and prices.
Wooden roof lanterns prices
Our standard sizes and prices are listed below and we can also manufacture any size you require. For specific sizes or shapes contact us and we will see how we can help. If you would like to have side windows on your lantern please contact us to discuss your requirements.
For a written quotation contact us with the dimensions of the finished ceiling aperture.
*All Prices are exclusive of VAT.
| | | | |
| --- | --- | --- | --- |
| Reference | Width | Length | Lantern Price |
| RL01 | 1000 | 1000 | P.O.A |
| RL02 | 1000 | 1500 | P.O.A |
| RL03 | 1000 | 2000 | P.O.A |
| RL04 | 1200 | 1200 | P.O.A |
| RL05 | 1200 | 1800 | P.O.A |
| RL06 | 1200 | 2200 | P.O.A |
| RL07 | 1200 | 2500 | P.O.A |
| RL08 | 1500 | 1500 | P.O.A |
| RL09 | 1500 | 2000 | P.O.A |
| RL10 | 1500 | 2500 | P.O.A |
| RL11 | 1500 | 3000 | P.O.A |
| RL12 | 1800 | 1800 | P.O.A |
| RL13 | 1800 | 2500 | P.O.A |
| RL14 | 2000 | 2000 | P.O.A |
| RL15 | 2000 | 3000 | P.O.A |
Wooden Roof Lanterns
All our prices include the hardwood frame. The double glazed units are made up of a 4mm toughened inner layer with a Planitherm coating, a 16mm Argon filled cavity with black warm edge spacer bars, and a 4mm toughened outer layer, giving a U value of 1.4. Also included is the powder coated aluminum capping. Prices exclude delivery and installation.
Finishes
The wooden roof lanterns can be made from a number of timber types and are supplied primed or fully finished in white as standard, or supplied in any colour from a  RAL to Farrow and Ball etc. Just contact us with your preferred colour and we will confirm a match and any additional costs. The lanterns can also be supplied in Oak with an oiled finish.
The Aluminum capping, finials, and crest are available in white or brown or can be powder coated to a RAL colour if required.
Optional Extras
External Decorations
Decorative aluminum finials to fit onto aluminum ridge. 80 or 125mm diameter balls or spikes from £30.00 each.
Colour paint finishes
Non standard colour to timber lantern from £75.00
Non standard colour to aluminum capping from £85.00
Ventilation
Opening vent – powder coated aluminum
Manual opening vent from £290.00
Manual opening pole £29.00 (brass or chrome furniture)
Electrical opening vent
Electrically operated vent from £440.00 supplied with rocker switch.
Thermostat, rain sensor controlled with manual override – £198.00
All our timber roof lanterns come with everything required to be installed and glazed by a suitable tradesman. We offer an installation service on request.