Accoya Bifold doors compliment the room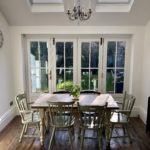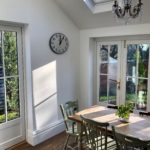 Bifold doors
Medina Joinery manufactured and fitted these Accoya Bifold doors and side door which compliment the room.
They offer additional solar gain as the light pours in from all sides.
Timber bifolds offer a real feeling of inside/outside where you can move a line of doors sideways to offer an uninterrupted opening to the outside. These were used in their dining area, opening up the room to the garden.
We supply all our wooden bifold doors fully finished with high quality top hung sliding door systems and can be made in any design from fully glazed to panelled, and in any colour.
Our workshop
Our hardwood timber bifold doors are made at our own workshops and can be made in any size up to 5.9m wide and 2.4m tall. These are manufactured in Accoya and painted with a factory applied paint system; this ensures they remain stable and look good for a long time.
Accoya
We reccomend Accoya which is the wood of our choice for window and doors. Not only does it have extremely low thermal conductivity but it is more durable and dimensionally stable than the best tropical hardwoods. It can be opaque coated or, for those wishing to enjoy the natural look of wood, transparent coated. Accoya®'s low maintenance requirements add to its cost effectiveness and environmental credentials. Have a look at the Accoya website for more information.
Gallery and Gallery Carousel
Have a look at our Gallery and our Gallery Carousel for more photos.
Contact us:
Phone us for a chat tel: 023 9263 7380
or email us: info@medinajoinery.co.uk
Recent Posts
Archives
Categories