Havant Jobs and Apprenticeships Fair – apprenticeships with Medina Joinery.
As an active member of the BWF British Woodworking Federation we were recently contacted by our local MP Alan Mak who asked if he could visit our workshop to discuss both local and national issues relating to the timber industry and apprenticeship schemes. One of our concerns as a business that relies of skilled staff,  is the ongoing quality of apprentices and perceived lack of esteem an apprenticeship seems to hold. This is something that Alan is well aware of and is keen to promote the apprenticeship route for young people and for this to be seen as the same level as university degrees. Following this meeting we were invited to attend the Jobs and Apprenticeships Fair at Warblington Secondary School that Alan was in the process of organizing.
It turned out to be a great event and gave us an opportunity to meet with potential apprenticeships, local colleges and other companies in a similar position. We had some small projects, timber windows and other small pieces of work our staff had completed for the display and these became quite a talking point with some nice complements on the quality of the products we manufacture.
Medina Joinery like to have an apprentice in our workplace offering the chance of learning skills, and training at the local colleges.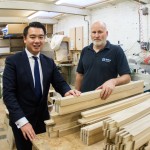 Recent Posts
Archives
Categories