Timber casement windows
Medina Joinery manufactured and supplied the square flush casement windows on the south west elevation of a local church hall in 2015. We then went on to complete the job by replacing the round window this year.  The church hall is close to a main road and suffers from a lot of weather and road spray due to its location and being only a few miles from the sea. The flush casement windows  were manufactured from Accoya and coated with a high performance micro porous paint to protect them from the elements; They have the openers closing into the frame for a traditional cottage style, but they benefit from modern friction hinges and multi point locking within the frame design, along with weatherproof gaskets, these are fitted with double glazed units.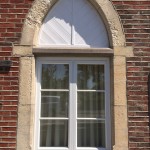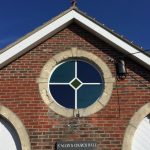 Timber casement round windows
Round timber windows are always a challenge to manufacture when using the traditional method. Over the years we have supplied several, either fully round windows, or doors and windows with half round or curved frames. The main thing to consider when manufacturing a curved section is it is made up of a number of elements. You have the frame, the casements and then the beading and each one is a different radius and need to have a template produced with all the various dimensions of each item.
We machine all the sections on a spindle molder using a special jig to allow us to form the curve. This is the hardest process to undertake on a spindle molder and if not undertaken correctly with the necessary former and guards can be quite dangerous.
Timber round windows and timber round top doors
Here are some examples of projects we have undertaken where we have supplied curved or round windows and doors.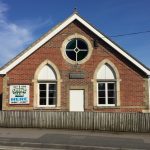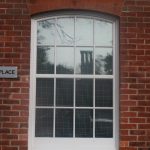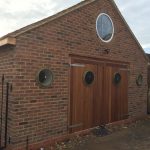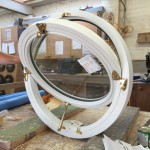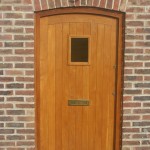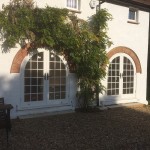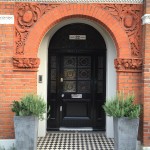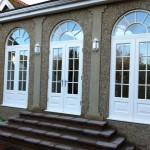 Along with our high performance windows and doors we can offer a number of traditional bespoke joinery items:
Sash windows
Casement windows
Storm windows
Conservation windows
French doors
Contempory and traditional Front doors
Stable doors
Bifold doors
Sliding doors
Bespoke designs to match existing
Medina Joinery offer high performance double glazed units that will comply with the latest building regulations, but offer a slim profile in keeping with a traditional look. All our joinery is handmade on the bench by time served bench joiners. We utilise modern machinery processes to produce weather proof, long lasting traditional timber windows and doors.
As a member of the British Woodworking Federation, we have a strong commitment to manufacturing high performance timber windows and offering a professional and reliable service to our clients. Using state of the art machinery, each of our windows is hand finished by our joiners to ensure the highest quality product. We can make any size and offer any configuration of openers with a variety of locks and handles.
Save
Save
Save
Recent Posts
Archives
Categories