Timber Roof Lights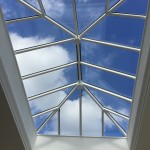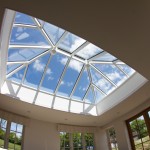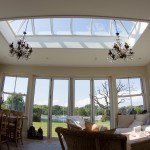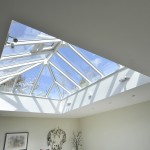 Bring sunshine in your room with a timber Roof Light
Many buildings suffer from low levels of daylight so a timber Roof Light would be perfect to open up your room and bring in the sunshine. They are fantastic for extensions, Orangeries or even a Roof light to brighten up your kitchen. So if you have a flat roof this would be ideal.
Fitting a Roof Light
When fitting onto a flat roof we recommend a minimum up stand of 150mm from the external finished flat roof level. The Roof Light can be fitted onto any up stand to a maximum width of 130mm. We can accommodate a wider upstand if you need to allow for a vented roof etc., but you will need to let us know so we can adjust our standard design.
What size of Roof Light?
You can have any size Roof Light you would like. Although we do have a list of standard sizes that meet most requirements and these can be more economical. The smallest size we would recommend would be 900 x 900mm as the area of glass at this size is getting quite small due to the dimensions of the timber frame. On a rectangular lantern the length on the ridge, or center section is worked out be taking the overall width from the length. If this is too short it can make the lantern look a little strange, so if in doubt, contact us and we can send you a drawing for you to approve.
Finishes
We hand build our timber Roof Lights from a number of timber types, and supply it in a range of finishes. They are supplied primed or fully finished in white as standard, or supplied in any colour from a  RAL to Farrow and Ball etc. Just contact us with your preferred colour and we will confirm a match and any additional costs. The Roof Light can also be supplied in Oak with an oiled finish.
Double glazing options:
All our timber Roof Lights are fitted with high performance double glazed units. Our double glazed units are supplied with toughened glass as standard. The inner pane has a coating of Planitherm which is a special coating to reflect heat that you generate back into your home, rather than allowing it to escape through your windows. This coating also allows free heat from natural daylight to pass through the glass giving you solar gain, warming the room for free and saving you money. The gap between the two layers of glass prevents condensation within the unit.
This unit will give a U value of 1.4 and will give you added security and is guaranteed of 10 years.
But we also offer other options of glass products:
Solar Control and Self Cleaning: We supply double glazed units with the outer pane made from Pilkington Active Neutral which has a slight but neutral tint. This is also available with a blue, grey or bronze tint to further reduce solar glare if required.
Acoustic Glass: If noise is an issue then we can supply units with the outer layer made from 6.4mm laminated glass, this cuts down noise transmission due to the two layers of glass being made of dissimilar materials which has the effect of braking up the sound waves. We can offer 'Acoustic Glass' if required.
Triple Glazed Units: We can supply triple glazed units if required, please contact us for more details.
Solar Controlled Glass: We can also offer the option of solar controlled glass. For this we offer Pilkington Activ™ Blue which is an on-line coated body-tinted, self-cleaning and medium performance solar control glass in an attractive blue colour. Its surface self-cleaning coating has photo-catalytic and hydrophilic properties. The unique blue colour helps to keep internal temperatures cool whilst still maintaining excellent light transmittance, low light reflection and high energy absorption.
Opening Vents
Opening vents are an option. Aluminum opening vents with either manual or motorized options can be supplied in a range of RAL colours to match the external capping. Aluminum thermal clad composite system, external drainage system, precise mechanical sealed mitered joints and concealed pressure cleats. Full length integral hinge system, easy to remove for onsite access. Fully fabricated with no onsite fabrication required.
Delivery and installation
All our timber Roof Lights come with everything required to be installed and glazed by a suitable tradesman. The timber section of the Roof Light is supplied fully finished and assembled with roof lights up to 3.5 x 2.0m. For larger Roof Lights we can deliver them in a flat packed form ready to simply screw back together. If access is a problem then we can supply any size Roof Light as a flat pack.
We offer an installation service on request.
If you are interested in a timber Roof Light contact us for a chat or email us, we will provide you with drawings and a free quote.
Recent Posts
Archives
Categories