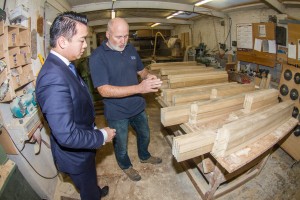 As an active member of the BWF British Woodworking Federation we were recently contacted by our local MP Alan Mak and asked if he could visit our workshop to discuss both local and national issues relating to the timber industry and apprenticeship schemes.
It was nice to be able to show him what we do and get an understanding of the efforts being made locally to promote apprenticeships and bring them up to the level of university courses. While we have a strong team it has been increasingly difficult to get skilled craftsmen to maintain the high quality we demand. We have since made plans with Alan to attend Warblington Secondary School, to the Havant Jobs and Apprenticeships Fair.
At Medina Joinery, we pride ourselves on providing clients with a quick, reliable and efficient service, whatever it is they're looking for. We are committed to enhancing customer satisfaction and continually strive to offer the highest level of service. We are a team of local, professional craftsmen with the necessary skills and knowledge to install doors, windows and timber roof lanterns in styles from the Victorian, Edwardian and Georgian period. All of our employees are highly trained and take great pride in their work, no matter how big or small. We specialise in private and commercial projects for a full range of clients across the UK.
Recent Posts
Archives
Categories