Large Accoya Roof Lantern on pitched roof at Ealing Hospital, London.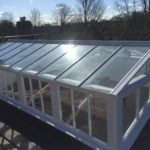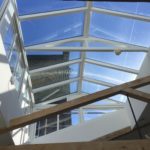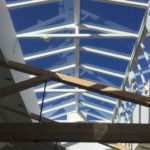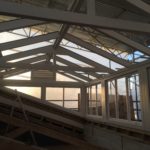 Large Accoya Roof Lantern on pitched roof
Our roof lanterns are usually a glazed structure which is installed onto a flat roof. But Medina Joinery manufactured and fitted this large Accoya Roof Lantern to a pitched roof at Ealing Hospital, London.
Bespoke
All our Timber Roof Lanterns are bespoke. They can be made in many sizes and styles to your exact specifications. Our Skylights are finished in any colour from Farrow and Ball, Dulux, RAL, BS, Paper and Paint, Little Green etc. We can supply a comprehensive range of glazing including clear toughened, anti-sun, easy cleaning and solar control. The external elements of the Lanterns are capped in a powder coated aluminum extrusion and can be supplied with a range of finials, and cappings. The capping can be finished in a range of RAL colours.
When concidering what size lantern you would like you should take into account the following;
Ensure there is enough room between the edge of the glass and any walls or parapets.
Take into account any drain pipes or soil and vent pipes running up the outside of the building.
The lantern dimensions are taken from the internal finished ceiling aperture (see this section drawing).
The length of the ridge is formed by taking the lantern length from the width so you need to concider this from an asthetic point.
Accoya
The Lantern shown above was made in Accoya which we would hightly recommend due to its sustainability, stability and very long life before it needs re-coating.
Our delivery options for a Roof Lantern
The timber section of the lantern is supplied fully finished and assembled with roof lanterns up to 3.5 x 2.0m. For larger lanterns we can deliver them in a flat packed form ready to simply screw back together. If access is a problem then we can supply any size lantern as a flat pack. The lantern is very straight forward to assemble with a connector bolt at each corner of the main frame to ensure tight square joints. (Click here for further information on roof lantern assembly) . Then the rafters are fixed into place along with the hips and ridge. After this you just need to apply the gasket and lay the double glazed units in place. The aluminum is supplied cut to length with all fixings ready to screw into place.
The fitting on a roof lantern is a relatively easy task providing the existing roof has been prepared with a weather upstand with a minimum height of 150mm.
Workshop
Come and see our team at work in our workshop.
Gallery
Take a look at our Gallery and our Gallery Carousel for more ideas.
Contact us
For more information, get in touch today. Call us on 023 9263 7380 or email info@medinajoinery.co.uk and we will be more than happy to help.
Recent Posts
Archives
Categories