Timber Skylight, timber Roof Lantern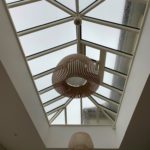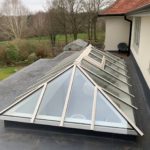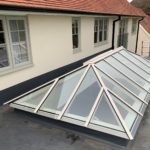 Timber Roof lantern/Skylights can offer a traditional focal point to any garden room, orangery, or extension. We hand build our wooden roof lanterns from hardwood, and can supply it in a range of finishes. The external elements of the Lanterns are capped in a powder coated aluminum extrusion and can be supplied with a range of finials, and cappings. As an alternative we can offer a more traditional lead ridge capping.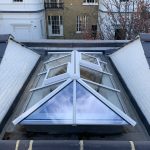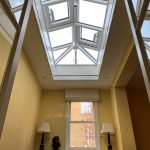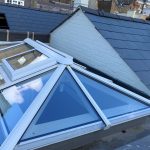 Frequently Asked Questions (FAQ) when considering a Timber Roof Lantern
What sizes can I have a timber roof lantern FAQ?
You can have any size timber skylight you would like. Although we do have a list of standard sizes that meet most requirements and these can be more economical. The smallest size we would recommend would be 900 x 900mm as the area of glass at this size is getting quite small due to the dimensions of the timber frame. On a rectangular lantern the length on the ridge or center section is worked out by taking the overall width from the length. If this is too short it can make the lantern look a little strange, so if in doubt, contact us and we can send you a drawing for you to approve.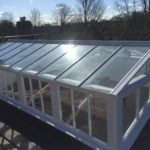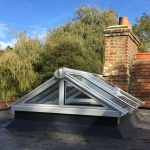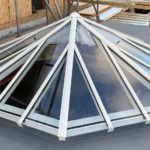 What colour options are there?
There are two elements to the timber roof lantern. The main wooden frame and the external aluminum capping that secures the double glazed units and make it all water tight. The timber can be painted any colour you would like, although there is an additional cost. We have a library of colours from the standard colour ranges such as RAL, Farrow and Ball, Dulux, and many more so just contact us with you requirements. The external aluminum capping comes in white or brown as standard. We can supply it in other colours however it is powder coated so the options are not quite as wide but we can usually meet your requirements.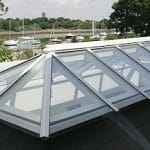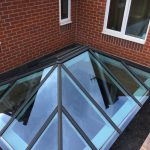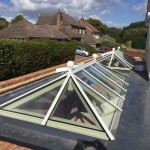 Who will fit the roof lantern?
Our lanterns are manufactured in such a way that they are relatively easy to install. The main wooden section will be delivered to site as a completed item up to a size of about 3.5 x 2m, with the glass units and aluminum capping all pre-cut to length and ready to simply fit into place and fix down. With larger lanterns we make them in a flat pack form with all items cut to size and painted ready to screw back together. We do offer an installation service. If you contact us with your lantern dimensions and location and we can arrange a quotation.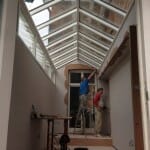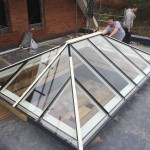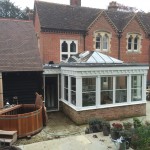 How should the flat roof be finished for the lantern to be fitted?
We recommend a minimum up stand of 150mm from the external finished flat roof level. The lantern can be fitted onto any up stand to a maximum width of 130mm. We can accommodate a wider upstand if you need to allow for a vented roof etc., but you will need to let us know so we can adjust our standard design.
What type of glass is on the lantern and what options do I have?
The standard roof lantern comes with a double glazed units made up of two layers of 4mm toughened glass with a softcoat to the inner layer. The cavity is filled with argon gas to improve the U value and they are fitted with warm edge spacer bars. This gives a center pane U value of 1.2W/m2. We can offer solar control and self-cleaning glass, so contact us to discuss the options and we can sort out a quotation. Have a look at our link on the website.
Can I have vertical windows around the side of the lantern?
Yes, we can supply all our lanterns with sidelight window. These can be any height from 400mm to 1000mm and can be fitted with top hung opening casements that work with a screwjack opener or can be motorized.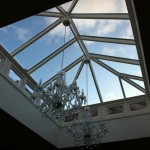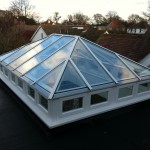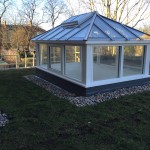 Is it possible to have opening windows in a roof lantern?
We can supply aluminum opening vents to fit between the rafters and can be operated either with a screwjack and crank handle or be fitted with a motor. There is also an option to have a climate control system that will close the vent if it rains.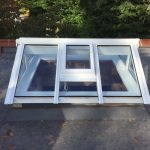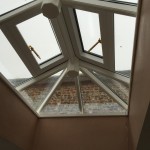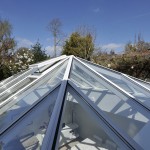 How should we work out the size of roof lantern we need?
The most important thing with a roof lantern when fitted is that there is a nice even margin all the way round the internal ceiling aperture when plastered. With this in mind we always work on the dimensions for the lantern to be taken from the finished internal width and length of the aperture that is formed in the ceiling. It is not really a problem how much the lantern overhangs the upstand on the outside, but it is important that it lines up correctly with the inside. The internal edge of the lantern is finished with an ovolo detail and overhangs by 22mm.
What type of external finishes are available?
The standard timber skylight comes with white (RAL 9010) powder coated aluminum capping, or brown (RAL 8040) in the event you are having an Oak lantern. The ridge section is an extruded aluminum profile with half round casting at each end. We can also supply finials to be fitted to each end of the ridge in the form of a 80mm or 125mm diameter ball or decorative spike. In the event you are looking for a lantern in a conservation area or for a listed property we can supply a lead ridge which can be dressed down over the glass and capping after installation. We would recommend the use of a patination oil to ensure the lead doesn't stain the glass over time.
How does the roof lantern get delivered?
The timber section of the lantern is supplied fully finished and assembled with roof lanterns up to 3.5 x 2.0m. For a larger timber skylight we can deliver them in a flat packed form ready to simply screw back together. If access is a problem then we can supply any size lantern as a flat pack. The lantern is very straight forward to assemble with a connector bolt at each corner of the main frame to ensure tight square joints (Click here for further information on roof lantern assembly) . Then the rafters are fixed into place along with the hips and ridge. After this you just need to apply the gasket and lay the double glazed units in place. The aluminum is supplied cut to length with all fixings ready to fix into place.
Medina Joinery
At Medina Joinery we pride ourselves on providing clients with a quick, reliable and efficient service, whatever it is they're looking for. We are committed to enhancing customer satisfaction and continually strive to offer the highest level of service. We are a team of local, professional craftsmen with the necessary skills and knowledge to install doors, windows and timber roof lanterns in styles from the Victorian, Edwardian and Georgian period. All of our employees are highly trained and take great pride in their work, no matter how big or small. We specialise in private and commercial projects for a full range of clients across the UK.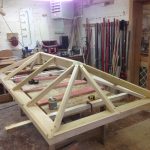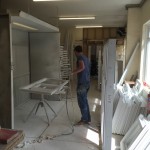 For all bespoke joinery projects we produce AutoCAD drawings for comment and approval by the client to ensure that every detail of the design is right before manufacture begins.
Contact us
For more information, get in touch today. Call us on 023 9263 7380 or email info@medinajoinery.co.uk and we will be more than happy to help.
Recent Posts
Archives
Categories